7.5 tonne van hire in St Helens
The 7.5 tonne van hire is the largest van hire that we offer, here at PSD Vehicle Rental. Known for its spacious interior and stability, it's a popular option for both domestic and commercial use – and could be exactly what you need to move your goods or possessions from one location to another. If you would like to provisionally book your 7.5 tonne van hire, simply click the button below.
7.5 tonne box tail lift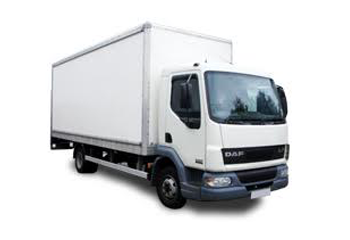 The exact make and model may differ. However, all of our 7.5 tonne vans feature:
– a large box body
– a 3000kg payload
– an easy-to-operate electric tail lift
– a comfortable 3-seat cab
Due to their box-shaped design, 7.5 tonne vans are capable of transporting a large load and are a particularly good option for fragile items – which require the support of solid sides in transit. Simply load it up using the tail lift and, we guarantee, your cargo will arrive safely at its final destination.
Is 7.5 tonne van hire right for me?
A 7.5 tonne lorry hire can be used to transport any heavy items from A to B. As such, it's a good option for a large or long-distance house move. 7.5 tonne vans are spacious vehicles. It's possible to load your heavy furniture and stack up multiple cardboard boxes of possessions – cutting down the number of trips back and forth.
7.5 tonne truck hire is also a suitable option for many commercial and business applications. Whether you need to transport a small number of weighty items or a large number of small, fragile items, it will do the job perfectly – ensuring goods arrive on time and in perfect condition.
Get in touch today for a quote
Want to find out more about 7.5 tonne van hire? Or perhaps one of our other van hire services in St Helens and the surrounding areas? No problem – our team are always on hand and happy to help.  Either give us a call on 01744 649889 to discuss your specific requirements or send an email to info@psdvehieclerental.co.uk and we'll respond to your enquiry as soon as possible.
Capacity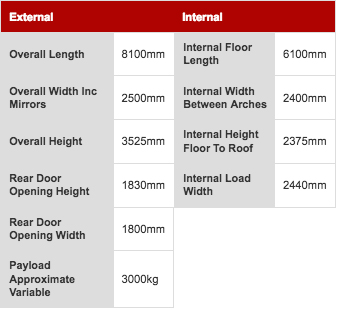 This depends on when you received your driving license and your age. If you passed your driving test before 1997, your licence will have a C1 entitlement – which means you're entitled to drive a medium-sized lorry and can take advantage of our 7.5 tonne van hire. However, if you passed on or after 1st January 1997, you must be at least 18 years old and will need to take a separate C1 test.
The 7.5 tonne box van measures approximately 8.1 x 2.5 x 3.5 metres, with an internal storage capacity of 6.1 x 2.4 x 2.4 metres. These dimensions offer huge potential for the transportation of goods – with enough space for both large, heavy items and vast quantities of goods. Yet despite its considerable size, the vehicle is very easy to load and drive.
This depends on whether you need the vehicle for a day, a week or more – essentially, the longer the hire term, the more it will cost. But, rest assured, our rates for 7.5 tonne van hire are very competitive and we like to offer a 'price match guarantee'. If you find the same vehicle elsewhere for less, we promise to match (or even beat!) the price. Customer satisfaction is at the heart of everything we do and we always strive to offer the best possible van hire service.
This Months Current Offers from PSD Car & Van Hire
See what our customers say about us
---
To Clint and all the staff at PSD - Sterling first came across PSD almost thirty years ago, and I am very proud to say we are still a client of theirs. PSD have never failed our company or me a single time. This year Sterling took possession of a new fleet of vans, somethng that occurs approximately every three years, and it is wonderfully reassuring to receive these vans and know that on delivery our company livery and logo is taken care of. All the necessary Sat Nav's reverse bleepers, flashing beacons and just about everything necessary for the site work on the vans is taken care of - Stephen Blennerhassett, Director.