Due to current guidelines, face masks are required to be worn when collecting or returning your vehicle.
3.5 tonne van hire in St Helens and the surrounding areas
The 3.5 ton Luton van is one of our most popular van hires in St Helens. Known for its versatility and large haulage capacity, it's an ideal option for big jobs – both domestic and commercial. To provisionally place your booking, click the button below and follow the on-screen instructions.
3.5 Ton Box Tail Lift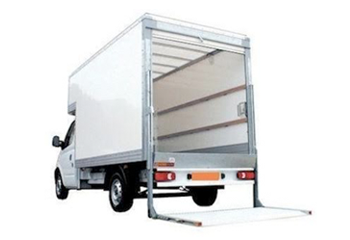 Although the exact make and model may vary, all of our 3.5 tonne vans feature:
– an easy-to-operate tail lift
– a 2.2 litre engine (or above)
– a spacious storage box
– interior tie rails and lighting
– a lightweight shutter
The cab itself is very comfortable. It benefits from both a generously-sized windscreen and large wing mirrors – allowing you to manoeuvre the 3.5 tonne vehicle with ease – and has space for two passengers. The box also extends over the top of the cab to provide additional storage space.
Typical uses for a 3.5 tonne Luton van
Thanks to its roomy storage box and tail-lift, the 3.5 tonne Luton van is commonly used for moving home. There's plenty of space for large pieces of furniture and appliances – cutting down the number of trips back and forth – and heavy items can be lifted into the box with minimal effort.
The 3.5 tonne truck is also suitable for transporting bulky items or large quantities. This could be building materials from the local DIY store, a new dining table for your home, a grand piano – anything that will not fit in your regular day-to-day car. Hired on a long-term basis, you can even use our 3.5 ton Luton van for business purposes (e.g. to deliver products to your customers).
Capacity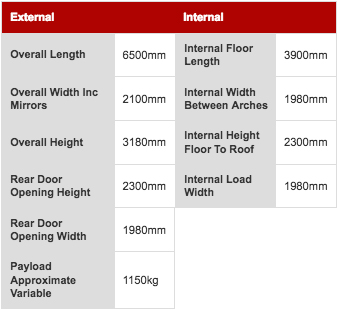 Weighing 3.5 tonnes, this is the largest van you are allowed to drive on a standard UK driving licence. That's why it's so popular for both domestic and commercial use. You don't need any special qualifications or permits – just your licence and 12 months' driving experience. Here at PSD Vehicle Rental, we also ask to see your printed licence summary and a valid form of ID (e.g. passport or bank card). You must be aged 25-75 – but as long as you tick these few boxes, you're free to hire a 3.5 tonne vehicle and drive away the same day.
The 3.5 tonne van measures approximately 6.5 x 2.1 x 3.2 metres, with an internal storage capacity of 3.9 x 1.9 x 2.3 metres. This is ample space for moving large items or large quantities. Yet despite its generous size, the vehicle is still easy to operate and is designed to make light work of big jobs.
This depends on how long you wish to hire the van for – the longer the hire period, the more it will cost. But rest assured, our rates are highly competitive and we offer customers a 'price match guarantee'. Find the same 3.5 tonne van hire elsewhere, for less, and we promise to match (if not beat!) the price. It's easy to get a quote. Either pop your details into our 'quick hire calculator' or give us a call.
Our Services & Current Offers
This Months Current Offers from PSD Car & Van Hire
See what our customers say about us
---
To Clint and all the staff at PSD - Sterling first came across PSD almost thirty years ago, and I am very proud to say we are still a client of theirs. PSD have never failed our company or me a single time. This year Sterling took possession of a new fleet of vans, somethng that occurs approximately every three years, and it is wonderfully reassuring to receive these vans and know that on delivery our company livery and logo is taken care of. All the necessary Sat Nav's reverse bleepers, flashing beacons and just about everything necessary for the site work on the vans is taken care of - Stephen Blennerhassett, Director.