Due to current guidelines, face masks are required to be worn when collecting or returning your vehicle.
3.5 ton tipper hire
Looking to shift heavy materials from A to B? 3.5 tonne tipper hire could be the solution. Known for its strength and functionality, this popular truck will get the job done quickly and easily – and it's perfect for both domestic and commercial use. To place your booking, simply click the button below.
Although the exact make and model may vary, all of our tipper van hires feature:
   – a powerful engine
   – a spacious open-box storage bed (3300mm x 2170mm)
   – a 1000kg payload
   – an easy-to-operate 'tipper' function
   – a universal tow bar
Thanks to the addition of high-quality hinges and hydraulic pistons, it's possible to tilt the open-box bed of the tipper van and move loose (yet heavy) materials – quickly, efficiently, and effortlessly. The cab itself is spacious and comfortable and can seat up to three people, including the driver.
Is 3.5 tonne tipper hire right for me?
Tipper hire is the perfect option if you need to move a large number of heavy items.
Common domestic uses include home renovation projects, garden clearances and general clear-outs. The tipper van can move anything from soil and tree-cuttings to parts of an old garden shed and junk furniture. Simply load it up with your rubble and keep trips to the local tip to a minimum.
Tipper truck hire is also a popular choice for commercial use – particularly for businesses where productivity and safety are of paramount importance. For example, tipper vans are often used for highway maintenance, landscaping and groundwork, construction work, building sites and more.
Contact us today for a quote
If you would like to find out more about 3.5 tonne tipper hire, or any of the other vans for hire in St Helens, please feel free to get in touch. All of our tipper vans are maintained to the highest standard and available for a highly competitive price. Either give us a call today on 01744 649889 or send an email to info@psdvehiclerental.co.uk to book yours.
Capacity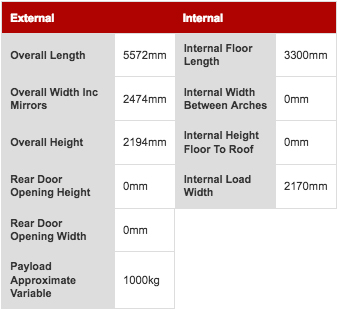 Yes, absolutely. All of our trucks weigh 3.5 tonnes; therefore, as long as you have a valid UK driving licence, you're legally allowed to use our tipper hire service for either personal or business use. Here at PSD, we also ask to see a valid form of ID (e.g. passport or bank card) and you must be aged 25-75. But meet these simple criteria and you can drive away in a tipper van the same day.
The 3.5 tonne tipper van is simple to drive and operate. Even if it's your first time driving a truck of this size, thanks to its design features, you should find it very easy to manoeuvre. The open-box structure means that it's quick and easy to load and, once you reach the recycling plant or tip, you can simply tilt the back and release its contents – with minimal effort on your behalf.
The exact cost of our tipper van hire will depend on the length of the hire term. But rest assured, whether you need the truck for a day, a week or longer, our rates are highly competitive. We also offer a generous 'price match guarantee'. If you find the same tipper van elsewhere at a cheaper price, we promise to match or beat it. To get your personal quote, either pop your details into the 'quick hire calculator' or call us on 01744 649889 to speak to a member of our team.
This Months Current Offers from PSD Car & Van Hire
See what our customers say about us
---
To Clint and all the staff at PSD - Sterling first came across PSD almost thirty years ago, and I am very proud to say we are still a client of theirs. PSD have never failed our company or me a single time. This year Sterling took possession of a new fleet of vans, somethng that occurs approximately every three years, and it is wonderfully reassuring to receive these vans and know that on delivery our company livery and logo is taken care of. All the necessary Sat Nav's reverse bleepers, flashing beacons and just about everything necessary for the site work on the vans is taken care of - Stephen Blennerhassett, Director.