Women drivers – are they really that bad?
You know the one.
That annoying car crawling at a snail's pace. The hatchback that's blocking the road, on its thirteenth attempt to do a three-point turn. The vehicle taking forever to pull out of the junction.
Male or female, the chances are, you think to yourself… "Must be a woman driver"
But why?
Are women really that bad behind the wheel? Do they deserve such an unfortunate reputation? At PSD Vehicle Rental, we don't think so. And to mark International Women's Day 2022, here we debunk this age-old stereotype and celebrate some of the best women drivers in history.
Behind the wheel, women drivers reign supreme
It's one of the most controversial debates in the UK. Are men better drivers than women? Or is it just an unfair cliché blown out of proportion? Absolutely everyone has an opinion on the matter. But the evidence is clear…
Statistically, women are actually more competent behind the wheel than men.
According to a study by confused.com, women may take longer to pass their test – and are 24% more likely to fail the first time. But once on the road, they tend to be much safer. Analysing and comparing data for male and female drivers, the researchers found that:
almost 70% of all motor insurance claims are made by men
men are more likely to be 'at fault' when making a claim
approximately 79% of motoring offences in England are committed by men (almost four times as many as women)
men are 89% more likely than women to have a high-speed crash
Another recent study, which analysed police and traffic statistics, found that male drivers pose a significantly higher risk to other road users – causing twice the number of fatal accidents per mile.
The figures speak for themselves.
By no means are we saying that men are poor drivers. Far from it. But the next time you're about to curse the car in front for being female, maybe think twice. This dated and unfortunate stereotype about "women drivers" simply isn't warranted by the stats.
5 inspirational women drivers
Since the early 20th century, women have taken to driving everything from tiny racing cars to large military tanks. Here we highlight just a few who have made their mark in history:

Maria Teresa de Filippis
Maria was the first woman to ever compete in Formula One.
Ironically, she began racing at the age of 22 – after two of her brothers bet that she couldn't drive fast. She certainly could. And without causing an accident, we may add! She won her first race in Italy in a Fiat 500 and raced in five F1 grand prix in 1958 and 1959.

Michèle Mouton
Regarded as the greatest female racing driver ever. Michèle won four rallies for Audi, the Tour de France Automobile in 1977, and the 1981 Rallye Sanremo. She finished runner-up in the world championship in 1982 (behind Walter Rohrl). And won the Pikes Peak International Hill Climb in 1986, setting a course record in the process.
Having retired from her amazing racing career, she then also went on to become the president of FIA's Women & Motorsport Commission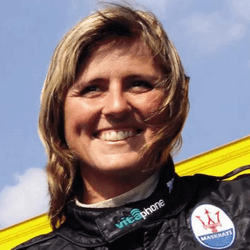 Sabine Schmitz
Described as the 'Queen of Nürburging'. Sabine has completed tens of thousands of laps around the imposing German circuit, including an extraordinary 10.08 run in a Ford Transit. She also won the highly demanding 24 Hours Nürburgring Competition. Twice.
As one of the highest-profile female racing drivers in the world, she inspired women from all over the globe to take up the sport.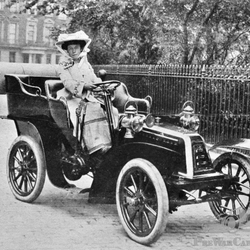 Vera Hedges Butler
In 1900, Vera was the first British woman to ever pass a driving test – although, she did have to travel to Paris to do it! She was assessed on her ability to pull away, steer and stop and had to demonstrate her knowledge of what to do in the event of a breakdown.
Not quite a record-breaking racing driver, but impressive all the same. She paved the way for every other woman who has passed since!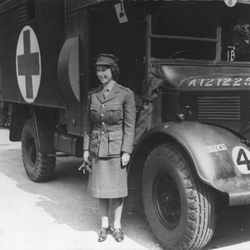 Queen Elizabeth
Last but not least, the Queen! During WWII, Princess Elizabeth turned 18 and – as she insisted on contributing towards the war effort – she was commissioned in the Auxiliary Territorial Service.
As part of her role, not only did she pass a military driving test, she learnt how to drive large trucks and ambulances and worked as a mechanic – successfully rebuilding engines and changing wheels. She remains the only female royal to have served in the military.

Women – get driving!
In answer to the original question, it's a resounding no. Women are not bad drivers. And as a female, you certainly shouldn't be put off or shun getting behind the wheel due to an unfounded stereotype.
Buy a car. Hire a vehicle from our Warrington or St Helens branch. Or even follow in the footsteps of Sabine Schmitz (or the Queen!) and rent a large van. You may not be able to keep up with an F1 racer. But as a woman, you're likely to be a safe and excellent driver – even if you do take a little longer to park! And it's time to ditch this dated cliché once and for all.