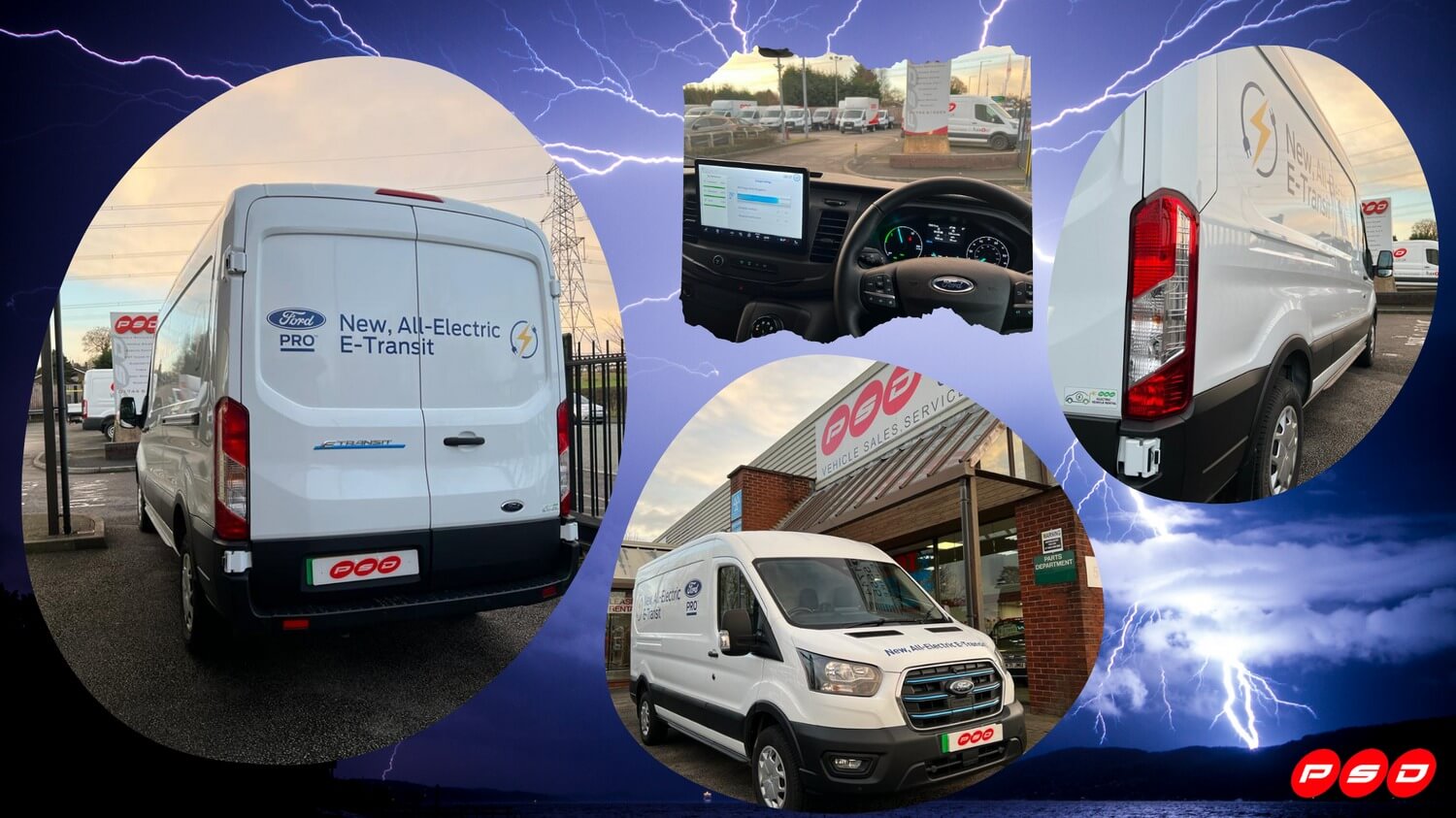 Electric van hire in Warrington and St Helens
Not sure about switching to an electric van? You're not the only one.
Many people, particularly those with a business fleet, have their reservations. In a recent poll of 500 UK van drivers, 57% were still driving a petrol or diesel model – held back primarily by their concerns over the charging time, battery life and cost.
But here's a fact that might sway your decision.
For 2023, the Ford E-Transit has not only been voted the best van of its kind, it's also been named 'Van of the Year' – beating all combustion-engine versions by a long shot.  A huge achievement that's very well deserved.

The E-Transit represents a watershed moment for electric vans.
Here at PSD Vehicle Rental, we're incredibly impressed by its performance and specification – and we believe it could be the final nudge that people need to make the switch. Now, there's absolutely no reason not to go electric – because the Ford electric transit van is really that good.
Find out more and hire yours from our St Helens or Warrington branch today.
Impressive features of the Ford E-Transit
That will relieve those diesel-driver concerns.
1. Excellent driving range
It may be electric, but this van can definitely go the distance.
With 60 kWh of usable power, it can travel up to 196 miles on a full charge.
Of course, this is typically less than you'd get from a tank of petrol or diesel – and it will vary depending on how the van is driven, how heavily it's laden and the weather conditions. But it's substantially more than what other electric vans on the market can currently offer. And more than adequate for most business uses.
2. Fast charging
Standard AC charging will bring this electric transit van back to 100% in just eight hours.
If you're in a particular hurry, there's also a 115 kW fast charging option – which tops up the battery to 80% in just 34 minutes. The perfect amount of time to take a break and grab a quick coffee!
The cost of charging will vary depending on the tariff, the location (i.e. whether you're at work, home or a public space) and the speed of the charger itself. But feasibly, it can be as little as £5 per charge! And you should find that it's cheaper to travel the same distance in the Ford E-Transit than it would be in a classic diesel transit.
3. Effortless acceleration
This is the most powerful electric van currently available.
Two models are available – 181bhp and 261bhp (brake horsepower).
Both will be far quicker than any large van you're likely to have driven in the past. The Ford E-Transit is reliably punchy underfoot. It instantly and effortlessly builds up speed, ensuring you can keep up with busy urban traffic and gain adequate momentum when approaching a motorway.

4. Fantastic driving experience
Creating an electric version of a vehicle isn't as simple as swapping the engine for a battery.
For the Ford E-Transit, the entire chassis has been re-modelled. The suspension has been altered and all electrical and mechanical components have been made specifically for that model.
The result? A fantastic driving experience.
It feels every bit as polished as a diesel transit, if not even more so. Thanks to its low centre of gravity, it offers a smooth ride and confidence-inspired handling. And unlike most electric models, which can be noisy in the cab, it's quiet and composed and exudes a sense of quality.
5. Range of sizes
There are 25 different models of the Ford E-Transit to choose from.
Admittedly, that's not as many as the original transit line-up with its thousands of variations. But with short-, medium- and long-wheelbases, specialist chassis, double cab versions, three lengths and two roof heights available, you're bound to find a configuration that meets your business requirements.
The electric transit van also has a maximum load value of 15.1m2 and a maximum payload of 1758kg. Which means, its carrying ability far exceeds any of its main electric competitors.
6. Zero CO2 emissions
Last, but by no means least.
The Ford E-Transit is a fully electric model. It produces 0g/km of CO2 emissions – making it the perfect option for anyone looking to switch to greener energy and reduce their carbon footprint.

Want to add a new spark to your fleet?
Time to ditch the diesel-powered legends for an electric trendsetter. If you're interested in EV hire, or moving your fleet towards electric or hybrid, please don't hesitate to reach out.
We now have a selection of electric vans for hire in both St Helens and Warrington – including the highly coveted, brand-new Ford E-Transit. Just like all of our hire vehicles, these are available for both short- and long-term rental and our rates are incredibly competitive.
Perhaps you're attempting to improve the eco-credentials of your fleet? Or still have a few doubts, and would like to try before you buy? Either way, to find out more and book the Ford electric van  – aka 'Van of the Year' – for hire, feel free to give us a call at any time on 0345 222 1022.
Alternatively, send an email to info@psdvehiclerental.co.uk.