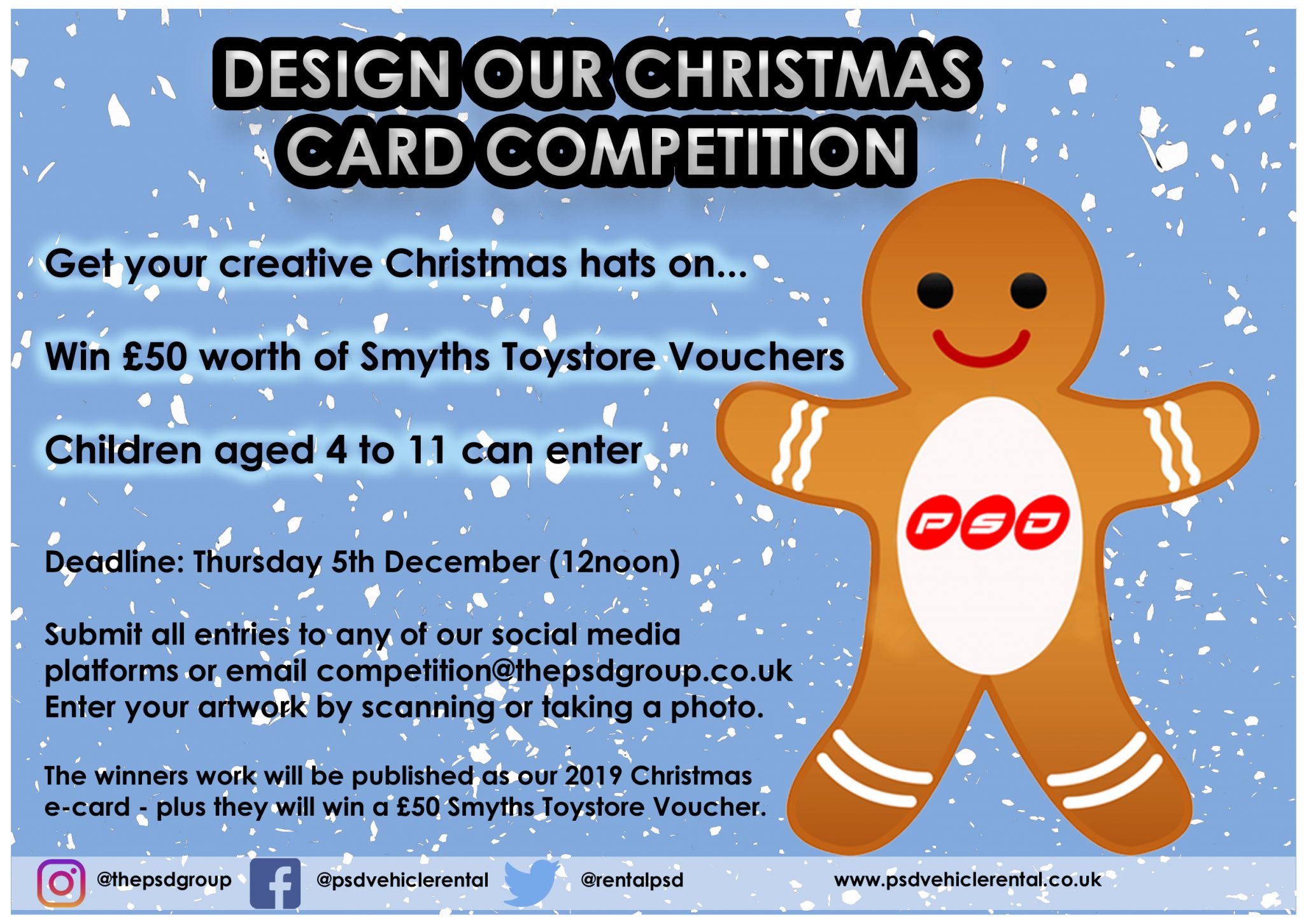 Design our Christmas card competition at PSD
Here at PSD Vehicle Rental, we send Christmas Cards every year, helping spread Christmas cheer. But, this year we have decided to switch things up a little bit! We want you to help us create the perfect e-card!
It's a more environmentally friendly way for us to wish everyone a very 'Merry Christmas' and we're letting you design it! The winner will win a £50 voucher for Smyths Toy Store.
Before entering our Christmas e-card competition please read all of our terms and conditions.
How to enter
Once the masterpiece has been created, please send a scanned copy or good quality photograph (on a mobile phone is fine) of the drawing/painting to our email address or one of our social media accounts. Each image should include the child's name and age. Plus a contact number or email address from a parent/guardian.
Terms and Conditions
The final entry will be THURSDAY 5TH DECEMBER 2019 12(NOON). Anyone entering after this date will not be included in the competition. Each competition entry should include the child's name, age and a contact number from a parent/guardian. The competition is open to all children aged 4 to 11. The only design brief we have given is a Christmas theme with the addition of a vehicle to stick with our company theme. Pictures can be sent to our business Facebook page, Instagram, Twitter or Email address – these details can be found at the bottom of this page. The pictures can be scanned, or a photograph can be taken on a mobile phone. (Please ensure the image is clear and the child's artwork can be easily seen). We will announce the winner on MONDAY 9TH DECEMBER 2019. The winner will receive a £50 voucher for Smyths Toy Store, plus their winning picture will be used to create our official PSD Vehicle Rental Christmas e-card for 2019. The winning design will be edited and adapted to meet our requirements.No alternatives are available to the prize, it is non-refundable.
There will be only one winner!
Facebook: @psdvehiclerental
Instagram: @thepsdgroup
Twitter: @RentalPsd
Email: competition@thepsdgroup.co.uk