Changes to the highway code in 2022
Did you know, UK driving laws were updated earlier this year?
On January 29th 2022, a number of significant changes to the highway code came into force – but not many people actually know about them.
Research commissioned by the UK's largest road safety charity, IAM RoadSmart, has revealed that 20% of the 1000 motorists polled were unaware of the rule shake-up. And if this survey is representative of the nation as a whole, this could mean around 7 million UK drivers are completely clueless about the changes – putting themselves and others at risk.
A lot has happened already this year, and it seems the government's efforts to communicate the highway code updates have fallen flat. So, to facilitate the safety of our customers, here we've rounded up everything you need to know about the new legislation.
Whether you're hiring a car from our Warrington office or renting a fleet of vans in St Helens, before setting off on your journey, be sure to take a look and ensure you know the rules of the road.
Hierarchy of road users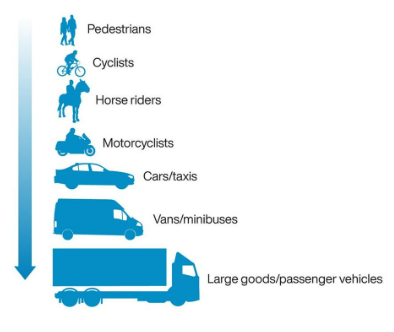 The main focus of the update is to improve the safety of vulnerable road users. And therefore, the 'hierarchy of road users' has been revised.
People who are at most risk in the event of the collision – including pedestrians and cyclists – are now prioritised above motorists. And drivers of vehicles that could cause the greatest harm (e.g. cars, taxis, vans, minibuses, large goods vehicles etc.) now bear the greatest responsibility, to take care and reduce the danger or threat they pose to others.
In line with this revision, several changes to the highway code have been made:
1. Drivers no longer have priority at junctions
When turning into or exiting a junction, you should now give way to pedestrians who are crossing or waiting to cross the road. This is regardless of whether there's a pedestrian crossing or not, and applies to cars, motorbike riders, horse riders and cyclists. The pedestrian is the No.1 priority.
Drivers must also now stop for pedestrians waiting to cross a zebra crossing.
2. Drivers must wait for cyclists to pass
According to the highway code changes of 2022, motorists should not 'cut across' cyclists, horse riders or horse-drawn vehicles at junctions or when changing direction. They have the right of way. Therefore, you shouldn't turn if doing so would cause them to stop and swerve. Simply stop your vehicle instead and wait for a safe gap in the flow of traffic.

3. Cyclists can ride wherever they feel safest
Until 2022, cyclists were mandated to stay on the left side of the road. But changes to the highway code now mean they can ride wherever they're most visible – and feel the safest.
On quiet roads and in slower-moving traffic, they're advised to ride in the centre of their lane. When riding on busier roads with vehicles moving faster than them, they're advised to keep at least 0.5 metres away from the kerb edge (or further, if it is safer).
Either way, as a driver, you're now required to leave at least a 1.5 metre gap when overtaking cyclists at speeds of up to 30mph – even if this means crossing a double white line. And if it's unsafe or not possible to meet this clearance, you should wait behind them.
4. Drivers should use the 'Dutch Reach' technique
This may sound like something you'd order in a bar in Amsterdam – but it's actually just a fancy name, for the way you should open your car door when leaving the vehicle.
The code recommends reaching across using the hand that's furthest away from the door. For example, if you're a UK driver, this would mean using your left hand to open the right-hand door. This technique forces you to turn your head and look over your shoulder, thereby reducing the likelihood of injuring a passing cyclist or pedestrian with the door.
5. Strictly no mobile phones
You don't need us to tell you that it's illegal to take or make a call behind the wheel. But to close a loophole, the highway code has now been updated to prohibit drivers from using their handheld device for anything – including taking photos or videos, playing games or scrolling through playlists.
This rule applies even when the vehicle is stationary. And drivers who fail to stick to the new rules could find themselves with a £200 fixed penalty fine and up to six points on their licence.

Want to know more about the new changes?
Detailed information on the Highway Code 2022 Edition can be found at www.gov.uk. So if you were unaware of the changes (or haven't read the highway code since you passed your test!), now is a great time to have a look and make sure you're 100% clued up on the newest driving laws.
Alternatively, you're welcome to contact our team – here at PSD – at any time.
As a leading vehicle rental service in St Helens, Warrington and the surrounding areas, it's our job to know the current legislation. And before you hire a vehicle with us, we're happy to talk you through the new changes to the highway code and answer any questions you may have.
Simply give us a call on 0345 220 1022. Or if you prefer, send an email to info@psdvehiclerental.co.uk and one of our in-house experts will respond as soon as possible.