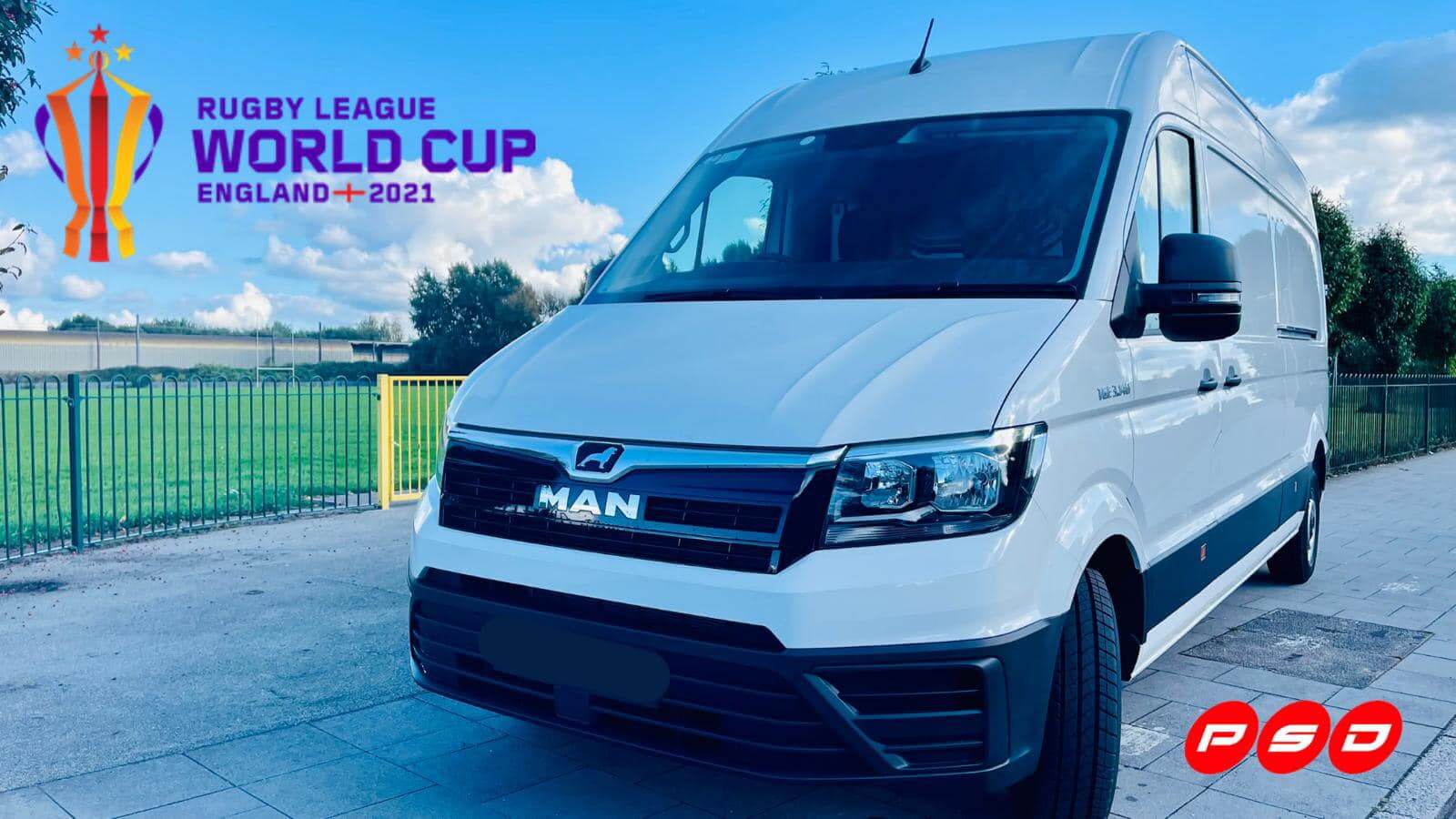 Car hire for the Rugby League World Cup
Hands up if you're a fan of rugby league 🙌🏈
Us too – which is why our breaking news is so much sweeter.
The Rugby League World Cup 2021 is due to start this month. Though it may be a year later than originally planned (courtesy of COVID), the tournament is set to kick off on Saturday 15th October – at St James' Park in Newcastle. And it's going to be 'bigger, better and louder than ever'.
For the first time in the event's history, the men's, women's and wheelchair competitions will come together and be staged simultaneously. And here at PSD Vehicle Rental, we're delighted to say that we're playing our own part – however small – in the proceedings.
A total of 16 teams are taking part and we're proudly supplying the kit van for all of them. That's right…all of them.
Thanks to our excellent reputation in the north and the collective support and hard work of #TeamPSD, we've been given this fantastic opportunity. To provide each team with the perfect medium-sized hire van, to transport their kit and training equipment and ensure it gets from one stadium to the next without a glitch.
Want to get involved in this historic event?
Across October and November, a grand total of 61 games will be played across England. Three of which are taking place here in our home town, at Totally Wicked Stadium St Helens.
These include:
Tonga Men vs Papua New Guinea Men – Tuesday 18th October
Tonga Men vs Wales Men – Monday 24th October
Australia Men vs Italy Men – Saturday 29th October

Several matches are also taking place at Halliwell Jones Stadium Warrington, including:
New Zealand Men vs Lebanon Men – Sunday 16th October
Papua New Guinea Men vs Cook Islands Men – Tuesday 25th October
Samoa Men vs France Men – Sunday 30th October
Men's Quarter Final – Sunday 6th November
The remaining host cities and venues are also, primarily, spread across Greater Manchester and Yorkshire – including at Leigh Sports Village Stadium, Manchester Old Trafford and DW Stadium Wigan. Therefore, they're all within easy reach and a relatively short drive away from our office in St Helens and Warrington.
Tickets start from just £10 for adults and £2.21 for children (under 16). So, why not grab yours today? Arrange a hire car to get you there in style and comfort and make the most of this historic and exciting event that's happening right on your doorstep.
Car hire in St Helens and Warrington
PSD is the no.1 company for car hire in St Helens and Warrington – and van hire for that matter! After all, that's the reason we've been asked to supply the kit vans for participating teams. We're professional, reliable, competitively priced and always prioritise excellent customer service.
Whether you don't have access to a vehicle or would just rather leave your own at home, here are a few reasons to consider hiring a car to get you to the game.
A vehicle to suit all parties
As part of our car rental service in St Helens and Warrington, you can choose from five rental classes, including economy cars, small cars, medium cars, large cars and MPVs. We also offer 9-12 seater minibus hire. So no matter how big or small your group, we have the ideal vehicle.
Cost of living crisis or not, attending a game doesn't have to break the bank.
Our prices are incredibly competitive. In fact, our daily hire rate is likely to be much cheaper than a return taxi to the venue – starting from just £40. The price you're quoted is the price you'll pay. There won't be any unexpected charges or fees when you return the vehicle to our office. And thanks to our generous 'full to full' fuel policy, you only pay for the petrol you use.
The booking process is very quick and easy.
All rentals can be provisionally booked online. Just select a car, calculate your quote and choose a collection time and location (St Helens or Warrington) that works for you. Simple as that.
There'll be no need to worry about bus and train times, or the potential for delays and cancellations due to strikes. You won't need to wait hours for a taxi to arrive. Or resort to walking home in the wind and rain! Just jump in your rental car and return it to us the next day.

Got a question about vehicle hire at PSD?
We're open seven days a week and always happy to help with your enquiries.
Whether you'd like to book a vehicle for the upcoming tournament, have a question about our car hire in St Helens and Warrington, or would like to find out more about the type of vans we can supply, please feel free to give us a call on 01925 982 564.
Alternatively, you can send an email to info@psdvehiclerental.co.uk and a member of the team will respond with further information as soon as possible.
We'd like to say a massive 'Good luck!' to Team England and a huge thank you to RLWC2021 for letting us contribute – in our own small way – to this momentous event. If you decide to attend one of the local games, keep your eyes peeled and see if you can spot our kit vans at the venue!