🎃🚗 HALLOWEEN GIVEAWAY ALERT! 🚗🎃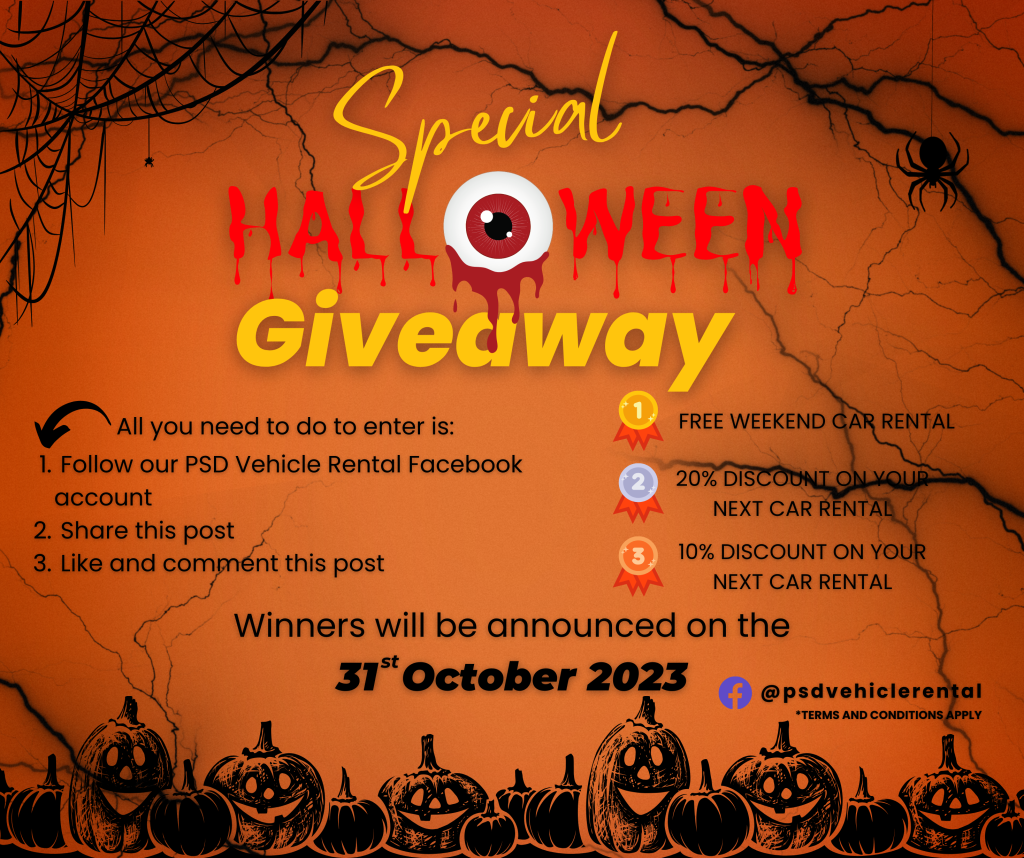 Get ready for a spook-tacular treat, dear friends! This Halloween, we are brewing up some wickedly good prizes just for you. 🧙‍♀️👻
We're thrilled to announce our special Halloween Giveaway, and you won't want to miss out on these fang-tastic prizes:
🏆 Grand Prize: A FREE WEEKEND CAR RENTAL! 🚗💨
🥈 Second Prize: 20% discount on your next car rental!
🥉 Third Prize: 10% discount on your next car rental!
Entering is as easy as saying "Boo!" 👻 Just follow these simple rules:
LIKE and FOLLOW our Facebook page (if you haven't already).
LIKE ❤️ & COMMENT 💬 on this giveaway post to let us know your favorite Halloween costume!
SHARE this post with all your friends!
The competition is subject to terms and conditions* below so make sure to take a peek 👀
We'll announce the lucky winners on the 30th of October, so keep an eye on our page!
We wish you all a spine-chilling Halloween filled with treats and good times. Good luck, and may the spookiest souls win! 🎃👻🚗
#HalloweenGiveaway #TrickOrTreat #PSDVehicleRental
*Terms & Conditions
Entrants must be over 25 years of age and held a full clean valid driving licence for a minimum of 2 years. Winners will be picked at random and announced on our Facebook page and other social media channels, and agree that PSD may post images of themselves on social media channels claiming their prize.
All prizes are subject to our standard rental terms and conditions including driving licence, identification, security deposit and insurance excess.
Prizes
1st prize – Free weekend car hire (Ford Fiesta or similar) Friday afternoon to Monday morning
2nd prize – 20% off car hire, one rental only until 31st December 2023
3rd prize – 10% off car hire, one rental only until 31st December 2023
All prizes must be claimed and used by 31st December 2023, they are non transferable and there is no cash value.
Our full rental terms and conditions can be found here https://psdvehiclerental.co.uk/terms-and-conditions/