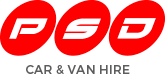 As circumstances surrounding the coronavirus continue to evolve, we want to keep you updated on what we're doing to protect the health and safety of our customers and our employees.
To support our valued customers we have introduced contingency measures including the ability to work off site to ensure customer calls, breakdowns and routine maintenance are all responded to in a timely manner as well as establishing a back-up team who will be working remotely, noting that all members of the team have access to our computer systems and our service network.
Our Rentals, bodyshop and maintenance team will continue to be available in the event of additional rental vehicles being required and emergency mechanical or body repairs.
We continue to closely monitor the global impact of COVID-19 and the precautionary measures we are taking are aligned with the latest information and global guidance, including from the World Health Organisation, Centre for Disease Control and national governments.
The health, safety and well-being of our customers and our employees are of the utmost importance and are driving the actions we're taking.
These actions include deploying an enhanced hygiene programme across our operations, establishing clear guidelines for employees who might feel ill and restricting access to our site.
Should you require any further information in regards to the above, please contact your PSD representative.
We are continually monitoring the situation and assure all our customers that you will continue to receive optimum levels of support through these challenging times.
Kindest regards
Close